A MESSAGE FROM OUR CEO
REGARDING OUR RESPONSE TO COVID-19
Updated 3/24/2020 at 3:15pm
Harrison Family YMCA Patrons,
Thank you for the positive messages of support sent to myself and our Leadership Team. Throughout this time of distress for everyone, I have found much peace and joy in the overwhelming amount of love and support that has been shown from so many of our members and donors. It truly shows how supportive of a YMCA and community we have here in Rocky Mount.
Based on continued recommendations from the CDC, state and local health officials, and area health departments, we must extend our temporary suspension of all YMCA facility access and programs through April 30th.
At the Harrison Family YMCA, everything we do is guided by our commitment to nurture the potential of children, support your health and well-being, and provide support for our neighbors and the community. We're so much more than a gym. And here, at the Y, you're much more than just a facility member. At our YMCA, you're a part of our purpose and you're a partner in strengthening the foundations of our community.
Stay With Us - Your YMCA Membership Choice
As our Y responds to our community's needs during this unprecedented time, we ask that you retain your membership with us if you are able. Not as a facility member, but as a cause-driven member. Your membership fees enable our Y to help build back the community, support our employees, and remain strong through these extraordinary circumstances so that we can continue to serve you when this is over. In this past week, we've opened up our child care for emergency care/essential workers, reached out to the elderly and others in need to ensure they have what they need during this time, explored and shared other community resources, launched virtual group exercise classes and other at-home activities, and are now exploring ways to help distribute food in our community. At this time, we want to offer you options regarding your membership.
1. Keep your membership active. Keeping your membership active will help ensure we remain fully focused on our efforts to support our community and adjust quickly when called upon. If you choose to keep your membership active, please know how grateful we are for your willingness and partnership. You don't need to take any action to retain this status.
2. We understand that this is not feasible for everyone. If you wish to place your membership on hold at no cost during our temporary suspension of services, we understand. Please e-mail our Membership Services Team at customerservice@rmymca.org by Tuesday, March 30th at the latest. This is to allow ample time to adjust your account before the April 1st auto-draft. They will be more than happy to help you.
We realize you have to make the best decision for you and your family. On behalf of everyone in the community counting on our Y in the weeks ahead, thank you for your strong consideration to stay with us. And again, thank you for your partnership, your patience, and your trust. Your participation and engagement make our YMCA the organization it is. The Y is not a place. It is a collection of people joined together, all of us, committed to improving lives and strengthening the community.
Mobilizing for Good
The coronavirus outbreak has created enormous uncertainty for us all, but how we respond is within our control. As soon as it became apparent that our Y needed to change course to support our community, we did. Our teams immediately mobilized to explore ways to support you and our community. By continuing to be a part of our Y you're helping us deploy and expand these resources and services.
• Food Distribution to Those in Need – We are exploring and getting ready to launch a partnership with schools and other agencies to distribute food to children and families in need. E-mail Liz Lord at llord@rmymca.org for more information on this.
• Child Care for Essential Personnel – We are working with community leaders to provide child care options for those who need it most. Click here for more information on this.
• Reaching Out – We are also reaching out to senior members to offer support as needed. E-mail Liz Lord at llord@rmymca.org for more information on this.
• Family Resources – With recent school closures, families are adjusting to a new normal. It can be overwhelming to contemplate what to do with all this new-found time. To help, we've compiled educational and fun resources for parents and children. You can access those resources here.
• Virtual Group Exercise Classes – We continue to share resources to keep our members and participants alone but together. You can visit your Virtual YMCA here.
These are hard times for everyone with many unknowns and there is much more work ahead for our Y. Moving forward, we will share updates and additional resources with you as well as keep you informed on our efforts to support our community. We know that our community relies on our YMCA not only as a place to be active and exercise, but also as a safe space where we can come together to build connections and find friendships. Now, more than ever, we need to band together to provide friends and families with the help and encouragement they need during these uncertain times. We are asking you to #StayWithUs as a cause-driven member so that we can continue our mission of strengthening community. And I again want to thank you for being a part of our Y and know that I am inspired by our community response.
---
TRUST THE EXPERTS & STAY UPDATED
Our Y's Local Key Leadership/Crisis Communications Team, as well as our NC YMCA Alliance Team, are continuing to stay updated with the latest information from the Centers for Disease Control and Prevention, the North Carolina Department of Health and Human Services, our local health departments, as well as school systems to take all necessary precautions and actions to help prevent the spread of COVID-19. All updated information/updates regarding our facility, programming, and precautions will be communicated in a timely manner via e-mail, our mobile app, our website, as well as our social media pages.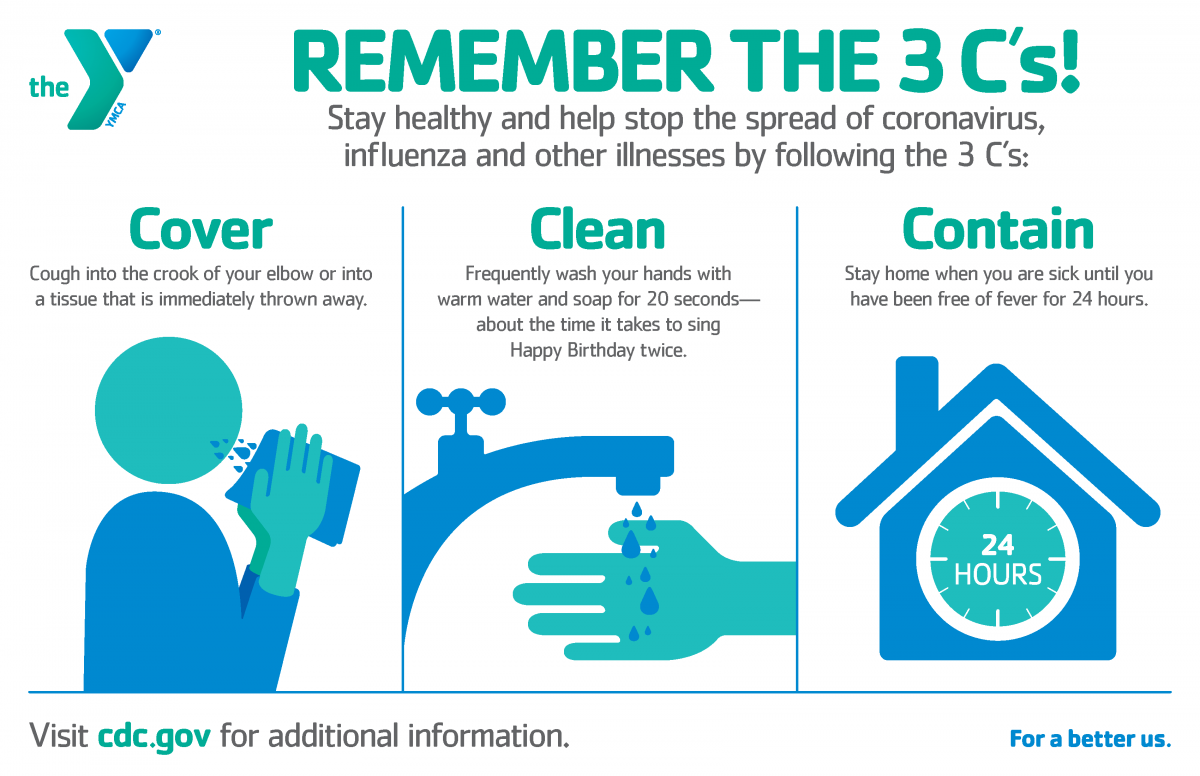 OUR RESPONSE TO COVID-19 | March 15th