LAUNCH EVENT!
These dates are subject to change as the current COVID-19 pandemic continues to delevop and effect our community. Please stay tuned for updated information as we navigate this situation. Click here for more information regarding our response to COVID-19.
Starting Saturday, April 4th, we will be launching BODYPUMP release 113. Each BODYPUMP class you attend during this launch week below gets you entered into a drawing to win a gift basket prize! The winner will be announced after the last class on April 11th.
The BODYPUMP Schedule for this week will be as follows:
Sat, April 4th 7:15 am Haywood
Sat, April 4th 9:00 am Marvis
Sun, April 5th 1:30 pm Willie
Mon, April 6th 8:15 am Haywood
Mon, April 6th 12:15 pm Rebecca
Mon, April 6th 5:30 pm Haywood
Wed, April 8th 5:30 pm Marvis
Thurs, April 9th 5:00 am Willie
Sat, April 11th 7:15 am Rebecca
What is BODYPUMP 113?
New music and choreography! BODYPUMP 113 is athletic, high repetition, light weight resistance training. In this release, we have dialed up the functional feel of key tracks, which makes the class feel more cardiovascular and muscularly challenging. You will definitely get your heart rate up – so, burning calories, muscle tone and shape are our instant results!
Invite Your Friends!
If your friend is not a member, ask your instructor for a BODYPUMP Guest Pass!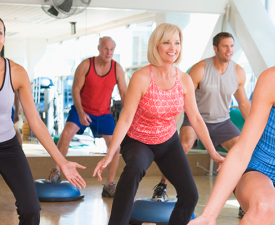 More Group Exercise Classes
Saturday, April 4, 2020 - 7:15am