THE FUTURE IS IN YOUR HANDS
Together we make a difference in the lives of thousands of people and a huge impact on each individual we serve. After serving Nash and Edgecombe Counties since 1911, the Y understands what our community needs to be its best. Working with generous donors like you, the Y provides everyone the opportunity to be healthy and thrive, to connect with others, and contribute to a better community. Everything the Y does is in service of making us – as individuals and a community – better. The future in your hands with our 2020 Annual Campaign. Volunteers and staff will be working hard to raise the charitable funds needed to address the issues that concern you. Every dollar donated to the Harrison Family YMCA stays local and has a lasting impact on the people in this community. We will be blasting off this year to ensure the Y's doors are open to all. Your support helps hundreds of youth and families thrive in life. The Y is your partner, standing with you to strengthen our community. Make a donation today, and take your first step in making a difference. The future is in your hands.
Donations enable youth to be safe around water.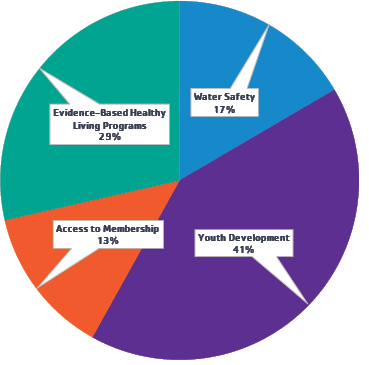 Donations provide evidence-based health programs to combat chronic disease.
Donations provide a safe place for youth to learn and grow.
Donations allow for greater access to a healthier lifestyle.
To take your first step in making a difference or if you are interested in volunteering for our Campaign, please click the link below to give your generous donation or contact our Development Director at 252-972-9622 ext. 232 or amatthews@rmymca.org
A Chance for All Color Run
Color Run Sponsor Opportunities
Annual Campaign Volunteer Storytellers
2019 Annual Campaign Donors
2020 Annual Campaign Volunteer Guide